LifeSmart Two Plus Blood Glucose Test Strips 100 Pack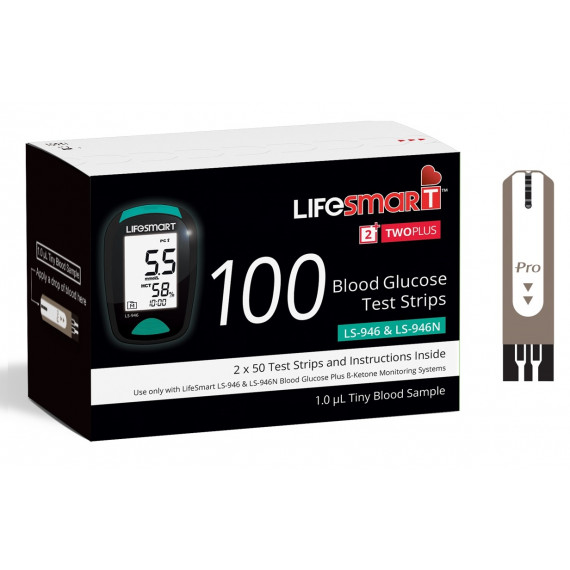 LifeSmart Two Plus Blood Glucose Test Strips 100 Pack
RRP $25.99
$18.99
---
DESCRIPTION
Pack of 100 – Blood Glucose Test Strips
For use with the LifeSmart™ Smart Blood Glucose Monitor plus β-Ketone Monitoring System, which actively connects to your smartphone (Android or Apple) allowing you to transfer, view and analyze your meaningful data in real time. Using the free app gives you the flexibility to share your data with your doctor, dietician or family members.
Blood Glucose Test Strips Specifications
Enzyme Type: GDH-FAD
Sample Size: 1.0 μL
Reaction Time: 5 seconds
Parameter: Glucose
Measurement Range: 10 – 700 mg/dL (0.56 – 38.89 mmol/L)
Hematocrit Range: 0% – 70%Precision ∓ 5% with respect to standard
Accuracy: ∓ 15 mg/dL if ≦ 100 mg/dL; ∓ 15 % if > 100 mg/dL
Note:
Do not apply blood on the top of the strip.
Any area of this strip can be touched and the glucose reading will not be affected.
Chemical components in sensor:
8% Glucose dehydrogenase (E.Coli)
55% Electron shuttle
8% Enzyme protector
29% Non-reactive ingredients
| | |
| --- | --- |
| Brand | LIFESMART |
| Script Required? | No |