Lucas Papaw Ointment 75g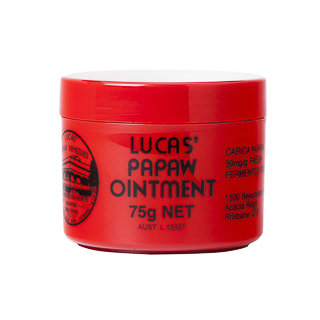 Lucas Papaw Ointment 75g
RRP $12.90
$10.99
Out of Stock
Please enter your email address below to be notified when this product is back in stock
---
DESCRIPTION
T.P.Lucas, after years of research as a botanist with professional experience, stated in his 1906 handbook that he believed that the papaw as the finest antiseptic yet discovered. Luca''s Papaw Ointment is a world-wide proven remedy of over 80 years standing.

Lucas Papaw Ointment may be used as a local topical application on the following:
* Abscesses- Boils- Bruises- Burns
* Carbuncles- Chafings- Cuts- Cysts
* Dry and Cracked skin on hands and feet.
* Gravel- rash -Heat rash- Insect stings
* Mosquito bites- Open wounds- Pimples
* Scalds Sunburn- Swelling associated with injury
* Splinters and thorns- Tinea- Whitlow
also:
* Nappy Rash and Cracked Nipples
* Temporary relief of the symptoms of dermatitis and eczema
* Temporary relief of the discomfort of haemorrhoids by local application.
Lucas Papaw Ointment is made in Australia from pure papaws.
Lucas Papaw Ointment cleans away infectious wastes. Papaw contains Papain which helps clean wounds.
| | |
| --- | --- |
| Catalogue Code | 1515 |
| Brand | Lucas Papaw |
| Script Required? | No |
Related Products