Nervoderm - Medicated Patch 5 Patches 10CM x 14CM Post-Herpetic Pain Relief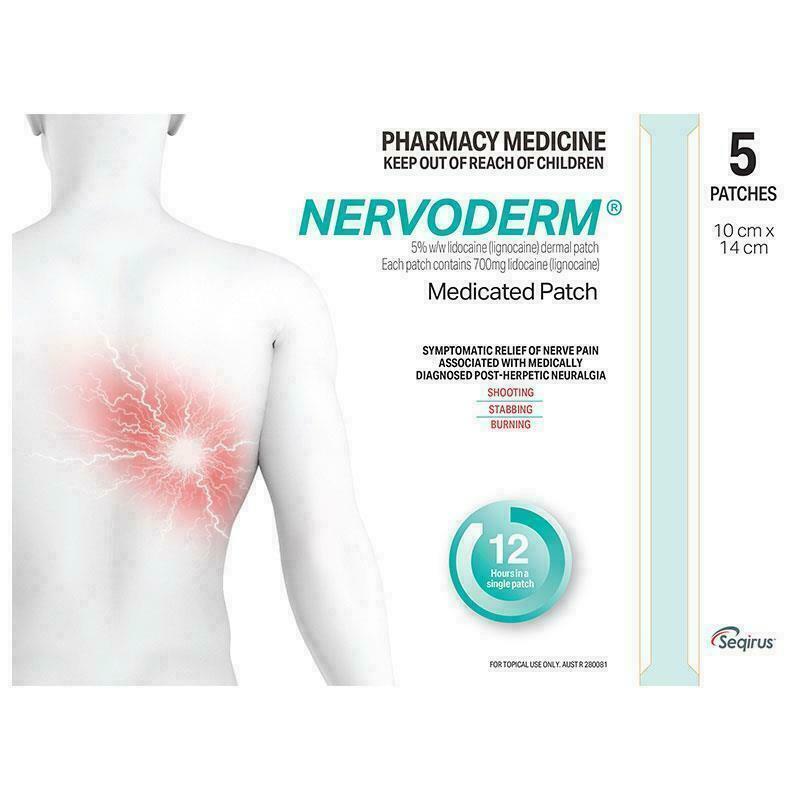 Nervoderm - Medicated Patch 5 Patches 10CM x 14CM Post-Herpetic Pain Relief
RRP $23.95
---
DESCRIPTION
Nervoderm contains the active ingredient lidocaine (lignocaine) which provides 12 hour relief from nerve pain associated with medically diagnosed post-herpetic neuralgia without causing any numbness. Patients in a clinical trial averaged 50% pain relief by day 7.
Nervoderm provides relief in 2 ways:
Lidocaine (lignocaine) absorbs into the skin to reduce the transmissions of pain impulses from nerve endings in your skin and relieves pain.
The hydrogel patch forms a protective barrier providing a soothing effect at the site of application.
Nervoderm is non-drowsy and can be used with other pain medications.
| | |
| --- | --- |
| Brand | Nervoderm |
| Manufacturer | Seqirus |
| Script Required? | No |
Directions
Directions
Adult dose: apply up to a maximum of 3 patches at the same time to cover the painful area. If necessary, patches can be cut to fit the painful area.
Patches can be applied day or night and left on for 12 hours, followed by 12 hours off.
Ingredients
Ingredients
Active ingredient: 5% lidocaine (lignocaine)
Other ingredients: Self Adhesive Layer: glycerol, sorbitol solution (70 per cent) (crystallising), carmellose sodium, propylene glycol, urea, kaolin-heavy, tartaric acid, gelatin, polyvinyl alcohol, aluminium glycinate, disodium edetate, methyl hydroxybenzoate, propyl hydroxybenzoate, polyacrylic acid, sodium polyacrylate, water - purified
Backing fabric and release liner: Polyethylene terephthalate (PET)
Warnings
Warnings
Always read the label, use only as directed, if symptoms persist see your healthcare professional.
Do not use NERVODERM Dermal Patch if you have an allergy to:
any medicine containing lignocaine
any of the ingredients contained in this product especially methyl hydroxybenzoate and propyl hydroxybenzoate
other local anaesthetic medicines similar to lignocaine such as bupivacaine, etidocaine, mepivacaine or prilocaine.
Do not apply NERVODERM Dermal Patch:
on injured skin or open wounds
on unhealed areas of skin for example unhealed blisters
Do not give NERVODERM Dermal Patch to children. Some medicines may be affected by NERVODERM Dermal Patch or may affect how well it works. These include:
some drugs used to slow the heart including tocainide and mexiletine
other local anaesthetics such as bupivacaine, etidocaine, mepivacaine, prilocaine or lidocaine.
Used patches still contain active ingredient, which may be harmful to others. Fold the used patch in half, with the sticky side together and throw them away so that they are out of reach of children.