Nexium 24 Hour 20mg 14 Tablets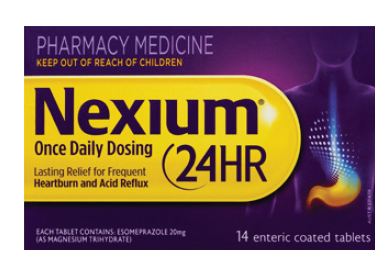 Nexium 24 Hour 20mg 14 Tablets
RRP $16.49
$14.95
---
DESCRIPTION
Nexium 24HR 20 mg enteric coated tablets for the lasting symptomatic relief of frequent heartburn, acid regurgitation and other symptoms associated with gastro-oesophageal reflux.
| | |
| --- | --- |
| Brand | Nexium |
| Script Required? | No |
Directions
Always take this medicine exactly as described in the Consumer Medicine Information leaflet or as your doctor or pharmacist have told you. Check with your doctor or pharmacist if you are not sure.

The recommended dose is one tablet a day.
- Do not take more than this recommended dose of one tablet (20 mg) a day, even if you don't feel an improvement immediately.
- You may need to take Nexium 24HR for a few days before experiencing the full effect.
- Nexium 24HR should be taken for at least 7 days and up to 14 days.
- Tell your pharmacist or doctor if you do not feel better while taking Nexium 24HR.
If symptoms persist or recur within 2 weeks of completing the course, consult your doctor. Further examination may be required.
Warnings
Always read the label, use only as directed.
Tell your pharmacist or doctor if you notice any of the following and they worry you: nausea or vomiting, constipation, diarrhoea, headache, wind, stomach pain, skin rash, itchy skin, dizziness or dry mouth. These side effects are usually mild. Tell your pharmacist or doctor if you are taking any other medicines, including any that you buy without a prescription from your pharmacy, supermarket or health food shop. Some medicines may interfere with Nexium 24HR. Do not take Nexium 24HR if you are pregnant unless your doctor says so. Ask your doctor about the risks and benefits involved. It is not known if it is safe for you to take Nexium 24HR while you are pregnant. It may affect your baby. Do not take Nexium 24HR if you are breastfeeding. Ask your doctor for more information. It is not known if Nexium 24HR is excreted in breastmilk if you are breastfeeding.