No-Doz Plus Tablets 24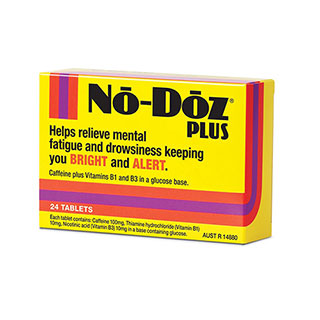 No-Doz Plus Tablets 24
RRP $8.95
$5.45
Out of Stock
Please enter your email address below to be notified when this product is back in stock
---
DESCRIPTION
Day to day demands of living in the world today also take their toll, leaving people occasionally looking for a lift to help them keep going.
Caffeine is a naturally occurring chemical in tea leaves, kola nuts and coffee beans. It acts as a stimulant on the central nervous system.
Humans from stone-age times have consumed caffeine as a stimulant.
Caffeine is the most widely consumed drug in the world. In each No-Doz and No-Doz Plus tablet there is 100 mg of caffeine, which is roughly the equivalent amount of caffeine as in a cup of filtered or brewed coffee.
No-Doz Plus also contains Vitamins B1(thiamine hydrochloride)10 mg and nicotinic acid 10 mg - nutritional elements for increased energy.
| | |
| --- | --- |
| Catalogue Code | 2007 |
| Brand | No-Doz Plus |
| Script Required? | No |