Optrex ActiMist 2 in 1 Dry Eye Spray 10ml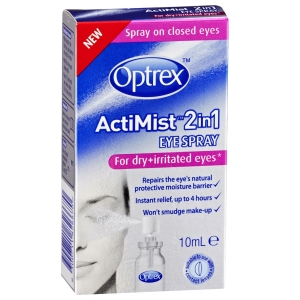 Optrex ActiMist 2 in 1 Dry Eye Spray 10ml
RRP $19.99
$16.88
---
DESCRIPTION
Soothing dry, irritated eyes is now so easy... You can do it with your eyes closed!
We''re all susceptible to dry, irritated feeling eyes. One of the main causes is our modern lifestyles - staring at a computer screen, driving long distances, air conditioning and central heating are all culprits. Contact lens wearers and older people (particularly women) are also prone.
ActiMist 2in1 Tired + Dry+Irritated Eye Spray*:
* Repairs the eye''s natural protective moisture barrier
* Instant relief, last up to 4 hours
* Won''t smudge make-up
| | |
| --- | --- |
| Catalogue Code | 5821 |
| Brand | Optrex |
| Manufacturer | Reckit |
| Script Required? | No |
Directions
ActiMist 2in1 Tired + Dry+Irritated Eye Spray*:

•Spray directly onto closed eyes to instantly soothe dry eyes*
•Stabilises the eye''s lipid layer and locks in natural moisture
•Clinically proven to provide instant relief for up to 4 hours
•Safe to use with contact lenses
*Dry+Irritated eyes due to disturbed lipid layer of the tear film, approx. 80% of dry eye cases.
Ingredients
Optrex Actimist™ Eye Spray is made from a similar ingredient as your natural tear film (tiny oily particles called Liposomes). It also contains Vitamin A and E.

General Information
•The spray bottle contains 100 applications
•The special spray mechanism means unlike many drops treatments, there is no need to throw the bottle away after 28 days of opening. What''s more, it can be used for up to 6 months after opening.
Related Products