Otrivin Plus Nasal Spray 10mL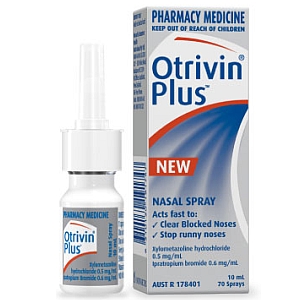 Otrivin Plus Nasal Spray 10mL
RRP $14.50
---
DESCRIPTION
Otrivin Plus is an advanced spray that combines two active ingredients in the one unique formula. This means it works in two ways to help control a cold; it unblocks the nose plus it stops a runny nose - fast!

BENEFITS OF THE MEDICINE:
Dual Action:
contains two medicines in the one formula and each has a different action:
* One unblocks the nose.
* The other stops a runny nose.
Fast acting & lasting relief: works quickly to unblock and stop a runny nose.
Targeted action:
works where it''s needed most, to relieve congestion in the nose and to control the drip.
| | |
| --- | --- |
| Catalogue Code | 5607 |
| Brand | Otrivin |
| Script Required? | No |
Ingredients
Xylometazoline hydrochloride 0.5mg/mL
Ipratropium bromide 0.6mg/mL
Related Products