Strepfen Intensive Orange Sugar Free Lozenges x 16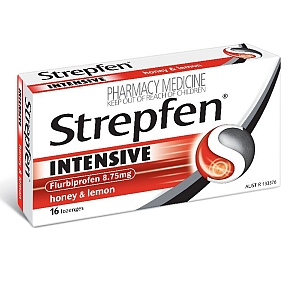 Strepfen Intensive Orange Sugar Free Lozenges x 16
RRP $9.99
---
DESCRIPTION
If you have a sore swollen throat which is causing you severe pain, take comfort in the real and lasting relief you can get from Strepfen Intensive.
These hard-working lozenges contain an anti-inflammatory analgesic ingredient* which helps relieve the painful swelling and tenderness of the throat. Sucking on a Strepfen lozenge can relieve your sore throat for up to four hours.

| | |
| --- | --- |
| Catalogue Code | 6040 |
| Brand | Strepfen |
| Script Required? | No |
Directions
Move the lozenge around the mouth occasionally as you suck it. Do not take more than 8 Strepfen Intensive lozenges in any 24-hour period. Do not exceed the stated dose. If symptoms persist, talk to your pharmacist or doctor.
Ingredients
*Flurbiprofen 8.75mg

General Information
* Pictured as Honey & lemon