Vermox Tablets 6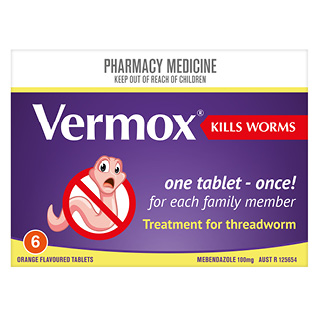 Vermox Tablets 6
RRP $15.44
$11.99
---
DESCRIPTION
Why choose Vermox?
Same dose for adults and children
One tablet once quick, no fuss, simple
No weighing or dosage calculations
May be used from 2 years of age

Which worms are Vermox effective against?
Threadworms are the only common worms that infect humans in Australia. Rare worms such as whipworm, roundworm and hookworm are not a problem in this country. If you suspect a rare worm infection, check with your doctor or pharmacist. If diagnosed with a rare worm infection, Vermox may be used for treatment as it is also formulated to kill whipworm, roundworm and hookworm as well as threadworm.
* Picture of Vermox Tablets 4
| | |
| --- | --- |
| Catalogue Code | 5420 |
| Brand | Vermox |
| Script Required? | No |
Directions
Dosage:
Treatment is simple. For children (2-12 years) and adults: one tablet per day. No body weight measurements or dosage calculations are required. Tablets should be crushed before giving to children.If you are pregnant, seek medical advice before using this product. If symptoms persist, consult a doctor.
Ingredients
Ingredients: The active ingredient mebendazole 100mg.
colloidal silicon dioxide, sodium starch glycolate, corn starch, hydrogenated vegetable oil, magnesium stearate, microcrystalline cellulose, sodium lauryl sulfate, saccharin sodium, talc, tetrarome orange and FD&C yellow No.6.
Sugar and preservative free.