Voltaren Emulgel 100g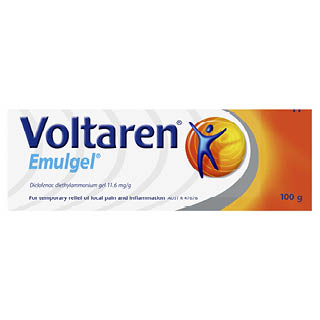 Voltaren Emulgel 100g
RRP $27.99
$23.88
---
DESCRIPTION
Voltaren Emulgel is a topical anti-inflammatory gel made by Novartis for the relief of pain and swelling.
Voltaren Emulgel contains an active ingredient called diclofenac that is one of the groups of medicines called non-steroidal anti-inflammatory analgesics.
Voltaren Emulgel is used to relieve pain and reduce swelling in a number of conditions affecting the joints and muscles.
Voltaren Emulgel is used to treat inflammation of tendons, ligaments, muscles and joints due to trauma (eg. Sports injuries, sprains, strains, bruises), soft tissue rheumatism and localized rheumatic conditions e.g.bursitis, and for aches and pains, back, neck, and shoulder pain
| | |
| --- | --- |
| Catalogue Code | 2334 |
| Brand | Voltaren |
| Manufacturer | Novartis |
| Script Required? | No |
Directions
Gently rub a small amount of Voltaren Emuglel into the skin around the swollen or painful area. The amount of gel needed will vary depending upon the size of the painful or swollen area being treated.

Ingredients
Diclofenac Diethylammonium Gel 11.6mg/g equivalent to Diclofenac Sodium 10mg/g (1% w/w)
Warnings
Never swallow Voltaren Emulgel, Avoid contact with eyes or mucous membranes. If this happens wash your eyes out with clean water and seek immediate medical advice. If you symptoms do NOT improve within 2 weeks or they get worse seek immediate medical advice.


Not suitable during pregnancy and breast-feeding. Keep all medicines out of the reach of children. Protect from heat (Store below 30�C)
Related Products