ApoHealth Cetirizine 10mg x 70 tablets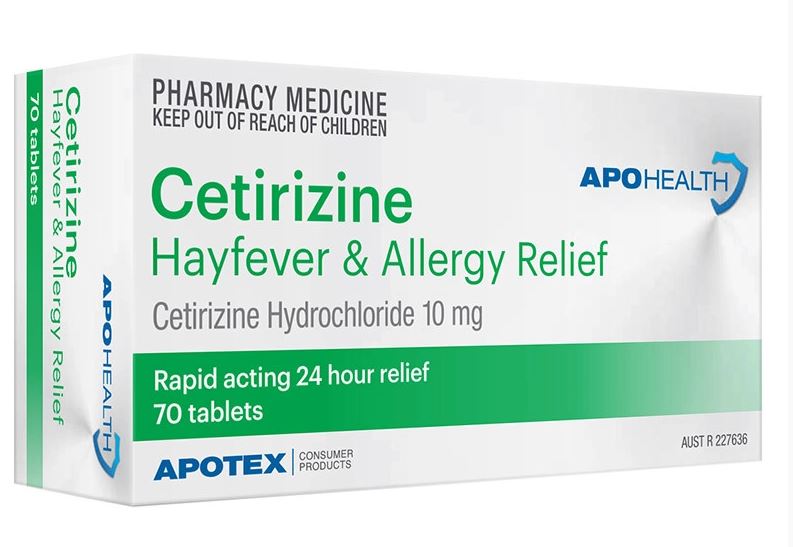 ApoHealth Cetirizine 10mg x 70 tablets
RRP $24.99
$17.99
---
DESCRIPTION
APOHEALTH Cetrizine (generic Zyrtec) is for the treatment of Seasonal Allergic Rhinitis, Perennial Allergic Rhinitis and Chronic Idiopathic Urticaria.
Cetrizine tablets contain an antihistamine called cetirizine hydrochloride.
Antihistamines relieve the symptoms of hayfever (eg. sneezing and an itchy, runny, blocked-up nose) and other similar allergic conditions. They may also be used to treat some itchy skin rashes such as hives.
*Picture shows cetirizine 10mg 70 tablets
| | |
| --- | --- |
| Catalogue Code | 6256 |
| Brand | Cetirizine |
| Manufacturer | APOHEALTH |
| Script Required? | No |
Directions
Adults and children 12 years and over- 1 tablet daily with or without food

Children 6-12 years- half a tablet twice daily with or without food

Not recomended for children under 6 years of age.
Ingredients
Cetrizine Hydrochloride 10mg
Related Products