Beconase Hayfever Nasal Spray 200 Doses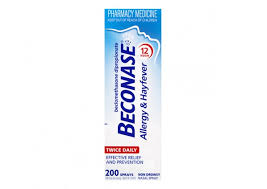 Beconase Hayfever Nasal Spray 200 Doses
RRP $17.99
$12.49
Out of Stock
Please enter your email address below to be notified when this product is back in stock
---
DESCRIPTION
Beconase Hayfever is a nasal spray for the relief of a blocked or runny nose, and red, itching or watering eyes caused by seasonal allergic rhinitis (hayfever).
Ideally, treatment should be started before exposure to the allergen (that is, prior to the hayfever season).
The full effect of this product requires regular use and may take up to a week before an effect level is reached.

How It Works?
Beclomethasone is a corticosteroid which penetrates inflammatory cells in the airways, blocking the synthesis of prostaglandins, chemicals which promote the inflammation, swelling and mucus secretion.
| | |
| --- | --- |
| Catalogue Code | 323 |
| Brand | Beconase |
| Manufacturer | GSK |
| Script Required? | No |
Directions
Each spray delivers a measured dose of 50 mcg. Apply two sprays in each nostril twice daily. Maximum dose is 8 sprays daily.
Ingredients
Beclomethasone dipropionate 50ug /spray
Warnings
Beconase Hayfever should be used only for short term relief of symptoms (no longer than 3 to 6 months). Avoid use if suffering severe nasal infection (especially Candida infection), tendency to bleed or recurrent nose bleed.
Use under medical supervision if pregnant or breast feeding, if total intake of betamethasone is greater than 1 mg, and in patients who have a dependency on steroids. Use under medical supervision for children under 12 years of age.
Related Products