Fess Frequent Flyer Nasal Spray 30mL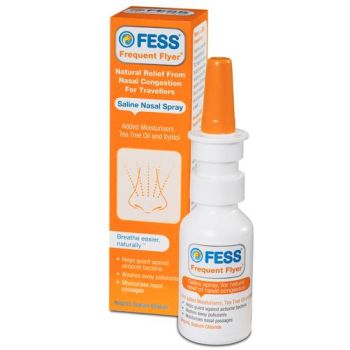 Fess Frequent Flyer Nasal Spray 30mL
RRP $13.95
$10.99
Out of Stock
Please enter your email address below to be notified when this product is back in stock
---
DESCRIPTION
The air inside an aircraft cabin is low in humidity and circulated with a combination of fresh and recycled air.This can dry the mucus membranes of your nose increasing discomfort during the flight.
With moisturisers and tea tree oil, fess frequent flyer hydrate dry nasal passages, helps guard against airbone infections, washes away airbone bacteria, dust and pollutants and helps clear blocked ears and nasal congestion.
| | |
| --- | --- |
| Catalogue Code | 1756 |
| Brand | Fess |
| Manufacturer | Faulding |
| Suitable Age | over 7 years old |
| Script Required? | No |
Directions
Use 2-3 sprays in each nostril before boarding the plane and every 2 hours during the flight.
Ingredients
saline solution, tea tree oil, vitamin e, castor oil, glycerin and spearmint oil, benzalkonium chloride as preservative.
Warnings
not recommended for children under 7 years old. for children use aroma-free Fess little noses.
do not use if the neck seal is broken. sharing may spread infections.if congestion persists, please see your doctor.
Related Products