Vicks Sinex 12 Hours Relief Aloe, Eucaliptus & Menthol Metered Pump Spray 15mL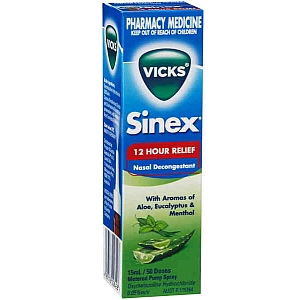 Vicks Sinex 12 Hours Relief Aloe, Eucaliptus & Menthol Metered Pump Spray 15mL
RRP $14.95
$11.44
---
DESCRIPTION
Vicks Sinex provides temporary relief from nasal congestion due to colds, allergies and sinusitis. It lasts for up to 12 hours.

| | |
| --- | --- |
| Catalogue Code | 5361 |
| Brand | Vicks |
| Script Required? | No |
Directions
Dose: Adults and children over 6 years, 2-3 sprays up each nostril, twice daily, morning and evening.
•The use of this container by more than one person may spread infection.
•Do not exceed recommended dosage. Treatment should not exceed 3 days. Frequent or prolonged use may cause nasal congestion to recur or worsen.
Ingredients
Contains:
Oxymetazoline Hydrochloride 0.05% w/v.
Benzalkonium chloride 0.02% w/v and chlorhexidine gluconate 0.05% w/v, as preservatives. Also contains sodium chloride.
General Information
Do not use this product if you have:
•Heart disease
•High blood pressure
•Thyroid disease
•Diabetes
•Difficulty in urination due to enlargement of the prostate gland, unless directed by a doctor.
Related Products